National Days of Advocacy
National Summer Learning Day
National Summer Learning Day is a national advocacy day recognized to spread awareness about the importance of summer learning for our nation's youth. Register your summer learning event or program to help families in your community find you! Find out more.
Lights On Afterschool and National Summer Learning are two national days of advocacy to raise awareness of importance of out of school time programs.

Governor Haley proclaims October 20th, 2016 Lights On Afterschool  Day as 2,300 students participate in events ranging from student writing, open house tours, speakers and more!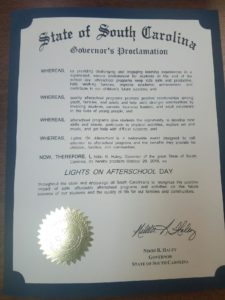 Read the full Proclamation.
SAVE THE DATE: July 14, 2016
The National Summer Learning Association is a WONDERFUL resource for activity ideas, planning guides, research and funding opportunities for summer camps.  Check it out today!
Together we can ensure all SC children are safe, healthy and engaged in learning during the summer.  Let's prevent summer learning loss and be certain to do the following:
hire and train effective and motivated staff
align summer curricula with school year curricula
offer engaging and rigorous programming
maximize participation and attendance
have small groups
involve parents
Research
Regular attendance in high-quality summer programs is associated with a range of positive academic and social development outcomes, including improved math and literacy skills, successful transition to the next grade, improved self-esteem and leadership skills, increase attachment to the labor market and increase likelihood of future employment.  (Chaplin & Capizzano 2006; Roderick & Nagaoka 2003; Cooper, et al. 1996; Bialeschki, Henderson and Jame 2007; Sum et al 2007; Granger, Durlak, Yohalem and Reisner 2007)
Program Resources
Join and be a part of over 1300 diverse individuals and organizations who share the same mission of improving access to quality out of school time programs!
Join Now
Join The Network
We compiled resources including research, funding opportunities, activities, and more! All of which we hope will be useful to out of school time stakeholders.
Read More